Hair Loss Scale
There are many standards that can be used to define the extent of hair loss or baldness. The most popular standard is the Norwood scale for men and the Ludwig scale for women.
Norwood Hair Loss Scale for Men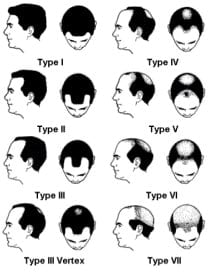 Type I Minimal hair loss.
Type II Insignificant hair loss at the temples.
Type III The first stage that requires treatment.
Type III vertex Receding hairline and thinning hair on the vertex.
Type IV Bigger pattern on the vertex and hairline.
Type V Patterns at both sites are bigger but a thin division line is still present.
Type VI The bridge is gone but several strands of short fine hair may remain.
Type VII The most severe form of hair loss. Little hair on the front or top of the head.
Ludwig Hair Loss Scale for Women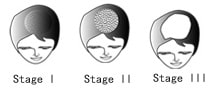 Stage I there is mild to moderate frontal accentuation loss.
Stage II there is both frontal accentuation that can be more severe than in stage 1 and mixed with diffuse hair loss.
Stage III the loss is so severe that only diffuse thinning is principally noted.