Cosmetic Specialists
The Q Esthetics team includes weight loss specialist and best-selling author Dr. Melissa Hershberg and leading expert in Botox cosmetic injections Dr. David Engelberg, and many highly trained and experienced medical consultants and registered nurses. We are dedicated to creating the best possible patient experience in a calming, and nurturing environment. From your first consultation through your final treatment, your privacy, comfort and satisfaction is our highest priority. Whatever your skin care needs – from addressing tell-tale signs of aging, to removing unwanted hair, our experts will craft a complete and customized program to help you achieve your best.
Dr. Melissa Hershberg
Dr. Melissa Hershberg – MD, is a medical physician, best-selling author, and weight loss consultant actively practicing in Toronto, Canada. Dr. Hershberg's interest in science, health and weight-management are longstanding. By the completion of her medical residency, Dr. Hershberg discovered an innovative and thought-provoking approach to teaching patients how to eat for weight loss and health, which led to the development of her best-selling title; The Hershberg Diet: Discover How The 4th Macro Will Help You Shed Pounds and Beat The Metabolic Syndrome. Dr. Hershberg's second book, The Rebel Diet: Break the Rules, Lose the Weight, was released in 2010 as a follow up to her first book. Through her books, medical practice, articles and speaking, she has helped thousands of people make positive lifestyle changes.
Dr. Hershberg rounds off her all-encompassing wellness approach by helping clients look refreshed and revitalized as a medical director and injection specialist at Q Esthetics Laser Clinic; with advanced techniques in Botox® Cosmetic and a variety of dermal fillers from Juvéderm & Anteis.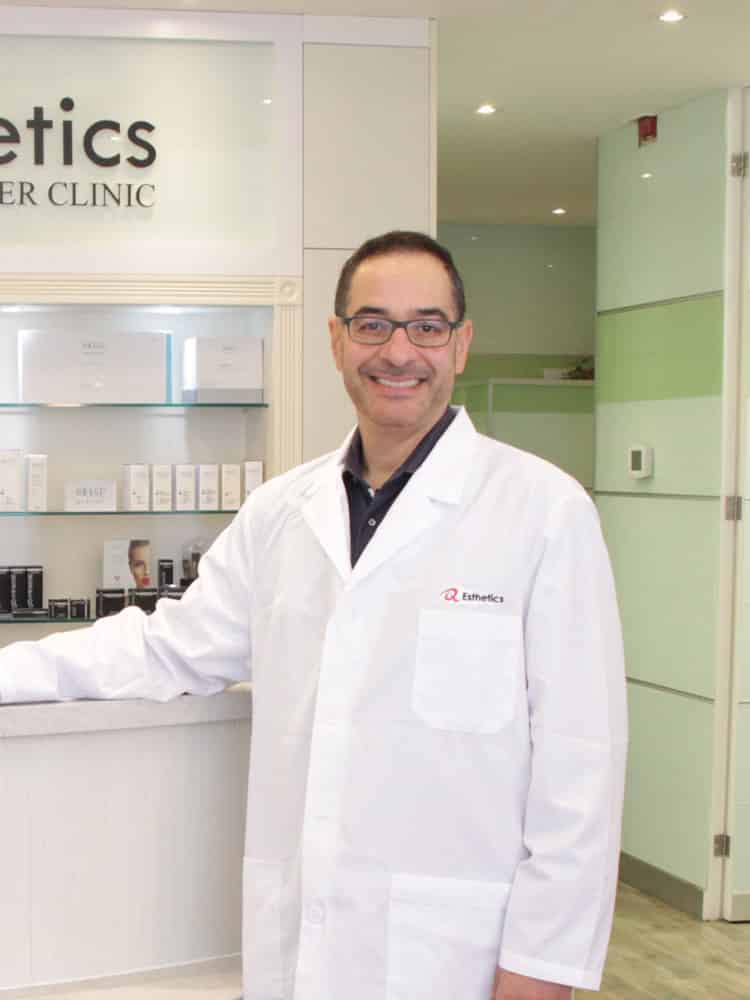 Dr. David Engelberg
Dr. Engelberg is a medical and dental practitioner, licensed to practice both family medicine and general dentistry in Ontario. He is licensed by the Medical Council of Canada, College of Physicians and Surgeons of Ontario, and the Royal College of Dental Surgeons of Ontario. He has used his knowledge of the facial musculature to provide injectable cosmetics at Q-Esthetics Laser Clinics. He received hands-on training from Allergan Inc. and has been providing Botox and other neuromodulator injections at Q-Esthetics since 2010. Dr. Engelberg has been practicing family medicine in Ontario since he completed his residency at McMaster University in 2006. He has maintained a family practice in Toronto since 2009. He attended medical and dental school at the University of British Columbia in Vancouver, where he grew up. He completed his General Practice Dental Residency at Vancouver General Hospital. Since 2011, Dr. Engelberg has been a Lecturer in the Department of Family & Community Medicine at The University of Toronto. He is a member of the Professional Education and Advisory Committee of the Heart & Stroke Foundation. He received a Fellowship from the College of Family Physicians of Canada in 2017. When not working, Dr. Engelberg enjoys spending time with family and friends, playing guitar, and cheering on the Toronto Raptors.
Careers with Q
Be a part of our extraordinary team. We are always looking for experienced candidates with a can-do attitude to join our winning team. If you are interested in earning great compensation, while working in a fast-paced and professional environment – we want to hear from you! Q Esthetics Laser Clinic is a leader in non-surgical laser skin treatments, providing advanced dermatology and cosmetic skin care across the Greater Toronto Area. For over 15 years, we have provided personalized cosmetic treatments to thousands of patients. Our team of knowledgeable and dedicated medical professionals pair innovative treatment techniques with cutting-edge technology, to help patients achieve their skin care goals – through a wide variety of specialized laser and skincare treatments. We look for positive, outgoing, energetic team members to make our environment fun and fulfilling each and every day. Q Esthetics Laser Clinic is always on the lookout for:
Clinic Coordinators
Medical Estheticians
Cosmetic Nurses
Please email your resume and/or any questions related to job descriptions to [email protected]. We look forward to hearing from you! Thank you! Q Pro Team
Esthetic Laser Clinic
Here at Q Esthetics, we work with thousands of our patients each and every year, so we can understand how you feel and how to serve your needs better. You may already have problems to deal with, and you've likely tried many products to treat yourself at home, experiencing disappointment and frustration. Our experienced medical staff will thoroughly examine your complexion to ensure the right treatment options are offered to you for your specific needs*. There is not one solution that fits all, and your private one-on-one consultation will be the first step to regaining your beauty and health again. Rest assured we offer many different treatment modalities, and if you've given up, because of poor results from previous treatments, we will find effective alternatives so that you can begin to see yourself in great shape again.
"With Our BEST, You Look And Feel Your BEST"
Call one of our

two convenient clinics

today and book your complimentary consultation to find out how we can assist you.